Focussing on work with two social enterprises in Naivasha highlighted an about turn in my perspective of development.
After journeying up from Zanzibar, Naivasha was our destination returning nine months after my first visit to meet Ken.  Kenny made an incredible difference to several projects during his extended stay here; I was hoping to follow up where he'd left off.  We both wear size 10s but especially in Naivasha Kenny's shoes are some big ones to fill!
The Nicklin Family – Minalyn, Peter, Sandy & Jesse - had hosted both Kenny during his time in Naivasha and me during my short visit over Christmas 2011.  They do an incredible job redefining hospitality.
Manu had been hoping to start teaching yoga to kids and by a very fortuitous twist of fate a day after arriving she had an opportunity. St. Therese Development Centre is a newly founded shelter for children who have suffered sexual abuse.  As I settled in to my work, Manu went off daily to the centre to help with teaching and using yoga as a form of therapy – and fun – for the kids.
My goal was focussed on making two social enterprises – Life Beads Kenya and Kajiji Cha Watoto (Children's Village) – to become more profitable, helping them to expand the reach of their programmes.
Minalyn founded Life Beads Kenya six years ago to give opportunities to marginalised women and former street boys to build a better life for themselves.  The social enterprise makes beautiful hand-made crafts which provides both income and training.
Kajiji Cha Watoto is an orphanage sustained by a bakery, both run by Pastor Michael Masetu and his wife Agnes.  Each day they wake a 4am and for seven hours produce thousands of small loaves and buns to sell in their local community.  The profits are used to pay for the 14 children they look after both in Naivasha and Vihiga.
To be honest I had mixed success in helping the organisations.
Pastor Michael was already running a profitable business and more than anything needed investment to help him grow.  He is incredibly dedicated and meticulous in recording almost everything by hand in a series of exercise books.  I donated my old laptop to him and together we set up financial systems in Excel. After logging his income and expenditure we projected future earnings to see what difference an investment would make.  We are going to use £2000 of Better Life Cycle funds to help him expand his bakery – doubling the capacity and funding a new piki-piki (small motorbike) to widen his area of distribution.  The result of which will hopefully bring greater security to the children Kajiji Cha Watoto cares for and should allow for more children to be cared for.
Working with Minalyn in Life Beads Kenya proved more difficult, in part as she has committed herself to an incredible number of projects; helping a local school with a feeding programme, being on the board of a new hospital, accounting for the East African Women's League, training other groups in handicraft, doing outreach at a the local women's prison … as well as running a family – not to mention Life Beads itself. 
Finding time to address some of the serious issues faced by Life Beads was always going to be tough.  In the end I put intentions of addressing those issues aside and focussed on more aesthetic work such as brochure design, shop refitting and helping Manu to produce a video.
I feel sad I was not able to help in a more profound way especially given the hospitality the family offered us and the potential of Life Beads to succeed.  I hope - as Minalyn would say - that 'God will provide'.
Dead Aid & Development
As I set out on this trip I thought charity and aid was the lifeblood of development in Africa.  I held the work charities did in very high esteem and wanted to be a part of it.  I wouldn't have considered myself ignorant – probably better informed than most, from years of taking an active interest and volunteering.  Yet the reality of my first hand experiences of the legacy left by charities/NGOs/not-for-profits on my travels has left me deeply sceptical about their approach.
There has been an uncomfortable feeling while cycling through much of East Africa, the feeling of refusing to give to very poor people who've asked me for something.  It seems common-sense that you can't just dole things out randomly – money in particular – it can easily create an expectation that more will follow and dependency.  Yet in many ways it seems that this is the legacy of years of aid and charity in Africa. The outcome of which – at least in my experience - is that an unfortunate number of people in East Africa seem to expect to be given something – always on the look-out for a hand-out.
This fantastic and highly amusing TED talk by Ernesto Sirolli highlights many problems with well-meaning but clueless aid projects, as well as a surpsingly simple remedy.
This is not a fresh perspective - the leaders of aid industry are mostly very aware of the issues they've caused - the trouble is it's not clear how to do it well.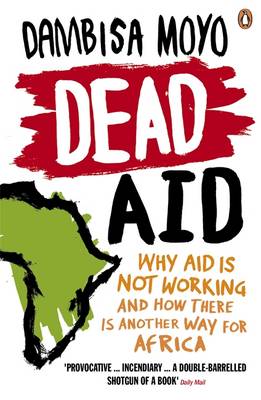 In her brilliant, if somewhat dense, book 'Dead Aid', Dambisa Moyo – a brilliant economist from Zambia - highlights the problems caused by aid at a macro-economic level, which reflect what my experiences locally.  I highly recommend the read. I agree with Dambisa in that for the most part jobs, training and trade are what are needed, not aid.
Truly free trade would almost certainly help to eradicate poverty on the continent – trouble is it is never going to happen. The developed nations continue to subsidise and protect their farming industries – mostly in the name of food security - thus locking the farmers for African nations out of the most lucrative markets.
Despite the criticism that the lion's share of profit sails overseas, foreign investment offers new jobs, training and exposure to the standards expected by high-performing companies - albeit for maximising their own profits.  This might not be as equitable as we'd like but in the leading western economies the distribution of wealth is hardly balanced and companies tend to avoid tax like the plague in the developed economies too. Not exactly ideal but what's the alternative?
Social enterprise in particular has become de rigeur in development – the elixir of sustainable development. Social enterprises take business efficiency and combine it with stated philanthropic goals. They tend to focus on employing disadvantaged people providing training and investment to create a product or service which generates a profit – at least in theory.
Social enterprises are transforming the livelihoods and well-being of countless people but are also not without their drawbacks.  I have witnessed several organisations using charitable funds to sustain a business which would otherwise fail – in my opinion they should be allowed to. Teaching skills for which there is not enough demand is total folly; it is another case of aid dependency. Ultimately the enterprise side of things has to work; to be profitable – failing businesses are not a driver of development.
So it is with some surprise that I now find myself with the view that aid sucks (at least too much of it) and capitalism (at least the least exploitative) isn't that bad after all.